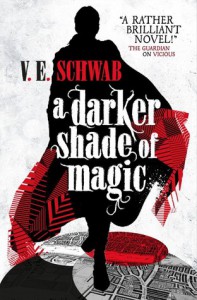 I debated between 3.5 and 4 stars for this one - I enjoyed this book thoroughly.
The world(s) building was good, both in terms of historical fiction (1819 London - "Gray London") - and fantasy in the two other Londons we visit, Red London and White London. Once upon a time there was also Black London, but it is now a perilous land where no one ventures, and relics from it are scrupulously destroyed.
Gray London is without magic. Red London is full of it. White London is full of people desperate for magic, and also full of murder and torture. The magical system is well developed - five elements (earth, air, fire, water, bone) and, for a rare set of magicians, blood.
Kell is one of two people who travel between them; the official Traveler for Red London, and a blood magician. (He has a counterpart from White London.) He ferries official mail between the worlds' kings (or Prince Regent, in the case of Gray London), and on the side he's a smuggler. He trades children's games from Red London for silver music boxes in Gray London, or chess pieces in White London.
His smuggling gets him into trouble, and in the process he meets up with Delilah, or Lila, Bard, a thief from Gray London with higher aspirations in life. And there is magic from Black London afoot in all three Londons.
As I said, I enjoyed this one, and I'd read another one in the series.