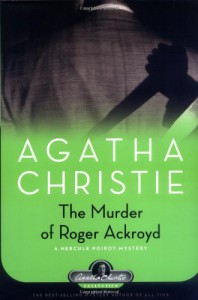 OK, let me write this a second time, and we'll just hope it doesn't get eaten this time!
The Murder of Roger Ackroyd is one of Agatha Christie's best constructed mysteries. It came out in 1926, and is undoubtedly her best mystery of the 1920s. This is technically a re-read for me, but it's been at least 35 years, so the read was not exactly "fresh." I did, however, remember the twist, but that allowed me to admire the skill of the construction.
Our narrator, one Dr. Sheppard, opens our story by discovering that one of his patients has almost certainly committed suicide by an overdose of sleeping pills.
He then attends dinner at the home of the richest man in the village, Roger Ackroyd, and the two have drinks alone after dinner, in Ackroyd's study. Here he learns that she did indeed commit suicide - she was driven to it by the increasing demands of a blackmailer.
After Dr. Sheppard returns home that evening, he receives a strange phone call, and hurries back to Ackroyd's house, where they find Ackroyd has been murdered. But everyone at the house has an alibi! The police are baffled, and Dr. Sheppard's new neighbor is called in to consult.
Who is his neighbor? Hercule Poirot.
I read this to fill in "Locked Room Mystery" (which it most certainly is), but it would also work for Murder Most Foul, Terrifying Women, or Country House Murder. (ETA: Also Terror in a Small Town or Amateur Sleuth.)
Called and Read:
Locked Room Mystery: The Murder of Roger Ackroyd, by Agatha Christie.
Ghost: The Canterville Ghost, by Oscar Wilde.