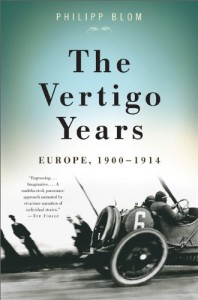 The Vertigo Years is a thematic exploration of the world before the Great War. The events of each year of the period inspires the contemplation of a different theme.
1900: France
1901: Europe's aristocrats in their twilight of greatness
1902: Austria-Hungary and Sigmund Freud's psychoanalysis
1903: science, particularly physics
1904: the Europeans in Africa, particularly the Belgians in the Congo
1905: Russia
1906: Europe's militaries
1907: the Bohemian fringe: pacifists, nudists, Madame Blavatsky and friends
1908: the "women with stones" - the Suffragettes
1909: machines and speed
1910: the arts
1911: popular culture
1912: eugenics
1913: crime and insanity
1914: summation on the world that was "run over by a bus," to quote the late historian George Dangerfield
It's probably not the first book on the period I'd hand someone who didn't know much about the era, due to its thematic nature - but it might be the second.